La Crosse Central High School

In Memory
Pamela A. Mouchka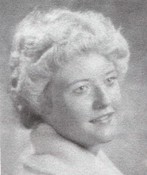 Obituaries for Monday, August 5, 1985
Pam Mouchka, 24, of 3002 E. Fairchild St., died Sunday, Aug. 4, 1985, in Sacred Heart Hospital, Eau Claire, of head injuries sustained in a fall while she was horseback riding.
She was born Nov. 25, 1960, in Fort Eustis, Va., to Don and Muriel Mouchka. She was a graduate of Central High School and a 1984 graduate of the University of Wisconsin-La Crosse.
She had accepted a teaching and coaching position in Bloomer for the coming school year.
She was a member of the UW-L Sports Medicine Program and a student athletic trainer in women's basketball, track and field and in football.
She also was a member of the National Athletic Trainer's Association and Delta Psi Kappa honorary fraternity.
Survivors are her parents; three sisters, Peggy of Oshkosh and Julie and Mary Sue at home, her paternal grandmother Jo Mouchka of Chetek; and her maternal grandparents Clarence and Gladys Johnson of Chetek.
She was preceded in death by her paternal grandfather, Jim Mouchka.
Services will be on Wednesday at 9 a.m. in the Blaschke Funeral Home and at 9:30 a.m. in the La Crosse Newman Center. The Rev. John Schultz will officiate. Burial will be in St. Boniface Catholic Cemetery in Chetek.
Friends may call at the funeral home on Tuesday from 4 to 5 p.m. and 7 to 9 p.m., with a prayer service to be at 7:30 p.m. Friends also may call at the Burnham Funeral Home, Chetek on Wednesday at 2 p.m., with committal services to follow.
Memorials may be given to the Central High School Athletic Department and the Pam Mouchka Scholarship Fund at the UW-L Foundation.