La Crosse Central High School

In Memory
Matthew T. Bakalars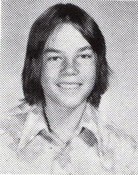 Obituaries for Thursday, June 8, 1978
Matthew T. Bakalars, 17, of 2233 Hoeschler Drive, died Tuesday, June 6, as result of a car accident.
He was born Sept. 20, 1960, in La Crosse, to Mr. and Mrs. Kenneth (Mary Quinn) Bakalars. He was a student at Central High School.
Survivors are his parents; three brothers, Daniel of La Crosse and William and Andrew at home; one sister, Mrs. Mark (Barbara) Johnson of La Crosse; and his paternal grandparents, Mr. and Mrs. Ray Bakalars of La Crosse.
He was preceded in death by one brother, Gregory, in 1961, who also died as a result of a car accident.
Services will be at 9:30 a.m. Friday in South Side Blaschke Funeral Home and 10 a.m. in St. Thomas More Catholic Church. The Rev. James Falconer will officiate and burial will be in Catholic Cemetery.
Friends may call in the funeral home Thursday from 4 to 5 and 7 to 9 p.m. with a Rosary to be recited at 7:30.