La Crosse Central High School

In Memory
Lucy Mae E. Davis (Graw [Ruege])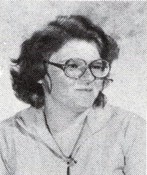 Obituaries for Saturday, August 19, 2006
Lucy Mae E. (Davis, Ruege) Graw, 45, of La Crosse passed away at her home Friday, Aug. 18, 2006, after a long illness.

She was born Dec. 28, 1960, to Charles and Margaret (Heffner) Davis in Milwaukee. She moved to La Crosse at the age of 5 and later graduated from Central High School in 1979.

Lucy Mae married Allen F. Ruege on July 7, 1979, and they later divorced. She then married Gary J. Graw on Sept. 5, 1998, on top of Grandad Bluff.

Lucy Mae belonged to the National Federation of the Blind, La Crosse Chapter.

Besides her loving husband, Gary, she is also survived by one daughter, Karen L. Ruege of La Crosse; one son, James A. Ruege, stationed with the U.S. Air Force in Grand Forks, N.D.; one stepson, Jamie (Ashley) Graw of La Crescent, Minn.; one stepdaughter, Anet Olsby of Roseville, Minn.; and two grandchildren, Austin Ehlo and Quinton Olsby. She also is survived by six sisters, Ann (Rich) Samland, Geri (Paul) Bjergum, Linda Odya, Barb Pettygrove, Dawn (Bob) Ortiz, and Colleen (Larry) Cartwright; many nieces and nephews; and a special friend, Larry Sebranek.

She was preceded in death by her parents; her mother-in-law, Esther Graw, and father-in-law, Frank Graw; one sister, Charline; one brother-in-law, Clyde Pettygrove; and a special friend, Kathleen Sebranek.

Funeral services will be Sunday, Aug. 20, at 7 p.m. at Schumacher-Kish Funeral Home of La Crosse. Chaplain Linda Kuehl will officiate. Entombment will take place Monday, Aug. 21, at 10 a.m. at the Garden of Peace Mausoleum in Mormon Coulee Memorial Park. Friends may call at the funeral home on Sunday from 5 p.m. until the time of the service and on Monday from 9 a.m. until departing for the cemetery.