La Crosse Central High School

In Memory
Randy J. Flock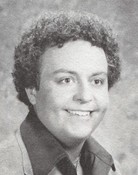 Obituaries for Friday, July 15, 2005
Randy J. Flock, 44, of La Crosse died on Wednesday, July 13, 2005 at Gundersen Lutheran Medical Center in La Crosse.

He was born on April 1, 1961, in Janesville, Wis., to David and Marlene (Knutson) Flock and graduated from La Crosse Central High School in 1979. On Sept. 3, 1983, he married Deborah J. Pease at Asbury United Methodist Church in La Crosse.

Randy had owned and operated Special Moments Floral Shop in La Crosse for over 18 years and was currently employed as a travel agent for SATO Travel at Fort McCoy, Wis. He served as the 61st Chapter President for the La Crosse Jaycees for 1995-1996, and also as the 74th State President for the Wisconsin Jaycees in 2000. Randy had also served on the Riverfest Board as the Jaycees Representative in 2002 and as a director in 2003 and 2004. He was also a lifetime member of Eagles Aerie 1254 in La Crosse. Randy enjoyed traveling with his family and friends.

In addition to his wife, Deborah, he is survived by five daughters; Donya (Darren) Eggeman of Okawville, Ill., Toni (Dan) Eggler of Kasson, Minn., Deidree Whitaker of La Crosse, Desiree Whitaker of Phoenix, Ariz., and Jennifer Whitaker and her fiancé Clinton Melendez of La Crosse; his mother, Marlene Schelbe of La Crosse; his father and step-mother, David and Alice Flock of La Crosse; nine grandchildren, Amanda, Darren, Jr., Megan, Allie, Brodey, Steven, Taylor, Evan and Bryce; maternal grandmother, Cecelia Knutson of La Crosse; two brothers, Tim (Lisa) Flock of La Crosse, and Chris (Cristin) Schelbe of Sparta; a step-brother, Richard (Peggy) Schelbe of Holmen, Wis.; numerous nieces, nephews, aunts and uncles; his mother-in-law, June (Jerry) Watts of Nakomis, Ill., a sister-in-law Donna (Leon) Duncan of Taylorville, Ill.; a brother-in-law, Michael (Sharon) Pease of Lake in the Hills, Ill.; along with his devoted pets, Olivia, Cloe, Ellie, and Scooter. He was preceded in death by his step-father, Richard F. Schelbe; maternal grandfather, Theron Knutson; and his paternal grandparents, Lawrence and Mary Flock.

Memorial services will be held at 3 p.m. Saturday, July 16, at the Schumacher-Kish Funeral Home of La Crosse with The Rev. Donald Iliff officiating. Friends and family may call at the funeral home today from 5 to 8 p.m. and again on Saturday from 2 p.m. until the time of services. Memorials may be sent to the American Cancer Society or an organization of choice.

Randy's family would like to thank Dr. Frank Cadwell and the entire staff at Gundersen-Lutheran Medical Center for their caring and support.