La Crosse Central High School

In Memory
John A. Gerke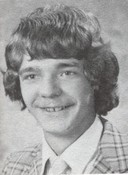 Obituaries for Thursday, August 8, 2019
John Alvin Gerke, age 58 of La Crosse, Wisconsin passed away on Tuesday, August 6, 2019 at Gundersen Medical Center. He was born in Wabasha, Minnesota on December 17, 1960 to Donald and Barbara (Allen) Gerke. John has spent his career cooking at Fayzes, the La Crosse Boat Club and at Ardies Restaurant on the northside for many years.
John was a fan of the Green Bay Packers, the Wisconsin Badgers, the Milwaukee Brewers and he suffered from Chicago Cubs Jealousy, mostly due their recent World Series Win. He enjoyed spending his leisure time at area parks with his dear companion, Michelle Rose. He also liked doing word-searches and he was known to be a fantastic cook.
John is survived by his sons; Jon Gerke of Madison and Chris (Shannon) Daugherty of La Crosse, sisters; Debbie (Ron) Miller of La Crosse, Nancy (Scott) Ziebell of Onalaska, Paula (Michael Fiebig) Gerke of La Crosse, and Roxanne (Brian) Hicke of La Crosse, brothers; Tom (Joy) Gerke of La Crosse, and Tony (Julie) Gerke of La Crosse, grandchildren; Dakota, Aubrey, Tessa, and Madison, and he loved his nieces and nephews. John was preceded in death by his parents and his sister; Linda Frick.
A celebration of John's life will be held on Friday, August 9, 2019 from 3:00 p.m. until 6:00 p.m. at the Mirage Sports Bar (4328 Mormon Coulee Road, La Crosse). The Dickinson Family Funeral Home is assisting the family with arrangements. Please visit www.dickinsonfuneralhomes.com for the extended obituary and to share online condolences.