La Crosse Central High School

In Memory
Eric G. Gilbertson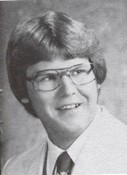 Obituaries for Thursday, July 16, 1998
Eric G. Gilbertson, 37, of La Crosse, died Tuesday, July 14, 1998.

He was born on July 12, 1961, in La Crosse to Walter and Audrey (Marson) Gilbertson. Eric married Diane M. Roesler on Nov. 2, 1985, in La Crosse. He had worked as a baker at Quillin's Bakery, La Crosse, for 22 years and was currently a full time student at Western Wisconsin Technical College, majoring in computer programming. Eric's many interests included hunting and fishing.

In addition to his wife, Diane, he is survived by two daughters, Sara and Alyssa, both at home; a son, Benjamin at home; his parents of La Crosse; three sisters, Linda (Scott) Smith of Onalaska, Wis., and Valorie Peterson and Pamela (Gerald) Willer, both of La Crosse; a brother, Kevin (Mary) Gilbertson of La Crosse; and several nieces and nephews.

A Mass of Christian Burial will be held at 5:30 p.m. on Friday, July 17, 1998, at Holy Trinity Catholic Church. The Rev. Lawrence B. Berger will officiate.

Friends may call at the church on Friday from 3:30 p.m. until the time of service.

In lieu of flowers the family request memorials be directed to the Eric G. Gilbertson Memorial Fund which has been established at the Franciscan Skemp Healthcare Credit Union.

The Schumacher-Kish Funeral Home of La Crosse is in charge of arrangements.