La Crosse Central High School

In Memory
Joan S. Glasgow (Benson)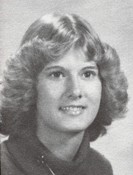 Obituaries for Thursday, September 21, 1989
Joan S. Benson, 28 of W4871 Tietze Drive, La Crosse, died of cancer Wednesday, Sept. 20, 1989, in Lutheran Hospital. She was born in La Crosse on May 31, 1961, to Robert and La Vonne (Kammel) Glasgow. She married James Benson on Oct. 15, 1983, in La Crosse. As a youth, she participated in several local horse-riding clubs and rodeos.
She attended elementary school at Mount Calvary Lutheran School and was a 1979 graduate of Central High School. She received her associate degree in nursing from W.W.T.I., and was employed as a registered nurse at Bethany-St. Joseph Care Center and then at St. Francis Medical Center.
In addition to her husband, she is survived by her son, Jarod; her parents of La Crosse; and several aunts and uncles. She was preceded in death by her maternal and paternal grandparents.
Funeral services will be held Saturday at 11 a.m. in Grace Ev. Lutheran Church, La Crosse. The Rev. Thomas Hilliard will officiate. Her body will then be cremated. Friends may call at Schumacher-Kish Funeral Home of La Crosse on Friday from 5 to 9 p.m. and at the church Saturday from 10 a.m. until service time.