La Crosse Central High School

In Memory
Elizabeth A. Haugland (Lawrence)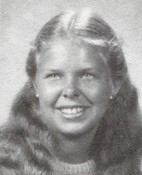 Obituaries for Saturday, May 28, 2005
Ballwin, Mo. — Elizabeth A. "Beth" (Haugland) Lawrence, 43, of Ballwin died at her home on Tuesday, May 24, 2005.

She was born on Oct. 18, 1961, in La Crosse, to Wallace E. and Rosanne (Reed) Haugland. She was later baptized and confirmed at Our Redeemer Lutheran Church in La Crosse. On Aug. 22, 1981, Beth married Thomas Lawrence in La Crosse.

Beth was a 1979 graduate of La Crosse Central High School and graduated in 1981 from Western Wisconsin Technical College with her dental assistant's degree. Beth pursued her career as a dental assistant for several years before devoting her time to caring for her family.

Beth gave unselfishly of her time, volunteering at the school her children attended. She also devoted time to her church for prayer adoration.

Beth was a loving wife and mother who will be dearly missed by her family and all who knew her.

She is survived by her husband, Tom; two daughters, Katie Lawrence of Clemson, S.C., and Amy Lawrence of Ballwin; one son, Anthony Lawrence of Greeley, Colo.; her mother, Rosanne Haugland of La Crosse; her sisters and brothers, Marilyn (John) Elliott of Holcombe, Wis., Susan (Jay) Gantenbein of Stoddard, Wis., Peter Haugland of Onalaska, Gary (Phyllis) Haugland of La Crosse, and her twin sister, Barbara (Michael) Watunya of La Crosse; many nieces and nephews; her father-in-law and mother-in-law, Jim and Marilyn Lawrence of La Crosse; as well as her extended family on the Lawrence side. She was preceded in death by her father in 1997.

A Mass of Christian Burial will be held on Tuesday, May 31, at 11 a.m. at Mary, Mother of the Church Parish at St. Thomas More Catholic Church. The Rev. David Kunz will officiate. Burial will follow in the Gate of Heaven Cemetery. Friends may call at the Schumacher-Kish Funeral Home of La Crosse on Monday from 6 to 8 p.m., where a prayer service will be held at 6:30 p.m. and at the church on Tuesday from 10 a.m. until the time of service.

Memorials may be given to Coulee Catholic Schools.