La Crosse Central High School

In Memory
Robert T. Johann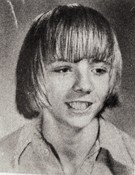 Obituaries for Saturday, March 21, 2009
JACKSON HOLE, Wyo./LA CROSSE — Robert "Bob" T. Johann, 47, of Jackson Hole and formerly of La Crosse passed away peacefully surrounded by his family at the home of his brother, Rick, in La Crosse on Tuesday, March 17, 2009, after a courageous battle with cancer.

Bob was born Oct. 1, 1961, in La Crosse to Dr. Willard and Mabel (Klomsten) Johann. Bob lived in Jackson Hole, where he was an avid hunter and fisherman. He loved the outdoors and was an avid outdoorsman. Bob enjoyed his trips to La Crosse and will be greatly missed by his family and friends.

Bob is survived by mother, Mabel; his siblings, David (Linda) Johann of Post Falls, Idaho, Dona (August) Fabyan of Pewaukee, Wis., Larry (Liz) Johann of Arvada, Colo., Linda Atkinson of Casper, Wyo., and Richard (Sherri) Johann of La Crosse; and 10 nieces and nephews. He was preceded in death by his father.

Memorial services will be held this summer and will be announced by Schumacher-Kish Funeral Home of La Crosse.