La Crosse Central High School

In Memory
Jennifer L. Marker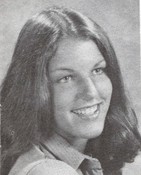 Published - Wednesday, July 2, 1980
Water skiing accident fatal to city woman
A young woman died Tuesday night after a water skiing accident in the west channel of the Mississippi River.
Dead is Jennifer Lee Marker, 18, of 531 N. 24th St.
Police said Ms. Marker was practicing a formation when she hoisted herself onto the thighs of another skier, put the tow rope between her legs, spread her arms and fell from her partner's thighs.
Officials said the rope became tangled around her neck.
She was treated at the scene by ambulance crews and later died at Lutheran Hospital.
Police identified the other skier as Todd W. Tillung, 20, 923 S. 16th St.
The parties were skiing behind the Holiday Inn, Hoeschler Park Plaza. Police said the driver of the 18-foot boat was Alan J. Tucker, 22, of 2225 Park Ave.
Services for Miss Marker will be Thursday at 10 a.m. in the Dickinson Funeral Homes, Jackson Street Chapel. The Rev. John Ruppenthal will officiate and burial will be in Oak Grove Cemetery.
Friends may call at the funeral home today from 7 to 9 p.m.
Memorials may be given to the University of Wisconsin-La Crosse.
Miss Marker was born in Minneapolis on Oct. 10, 1961, to George and Connie (Hisel) Marker Jr.
She was a 1979 graduate of Central High School, and a student at the University of Wisconsin-La Crosse. She also was a member of the Alpine Ski Team.
Survivors include her parents; her sister, Lynn at home; her brother, Joel of Chicago; her maternal grandparents, Mr. and Mrs. Virgil Hisel of La Farge; and her paternal grandmother, Mrs. Laura Marker of La Crosse.