La Crosse Central High School

In Memory
Timothy K. McDowell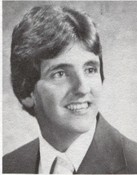 Obituaries for Wednesday, October 17, 2007
OCEANSIDE, Calif./La CROSSE — Timothy Keith McDowell, 46, of Oceanside and formerly of La Crosse, died on Tuesday, Oct. 16, 2007, in San Diego.

He was born in La Crosse on July 25, 1961, to Fritz and Mae McDowell and graduated from La Crosse Central High School. He then attended the University of Wisconsin-La Crosse. Tim was employed by CVS Pharmacy for 20 years, as the health care manager in Carlsbad, Calif.

Two months and one week before Tim's death, he was diagnosed with MDS, which is a disease that attacks the blood cells. He fought a brave battle for survival and did not complain.

At age 4, Tim accepted Jesus as his Savior through the ministry of Child Evangelism Fellowship. Romans 6:23; For the wages of sin is death, but the gift of God is eternal life. Our prayer is that all would come to know Jesus as their Savior. Tim's lifestyle did not always reflect his faith, but near the end he reconfirmed his faith with the Lord.

Tim loved to play the piano and he toured two summers with the Continental Singers, playing the piano and singing. He also played the piano at many of his nieces and nephews weddings. Tim loved to come back to Wisconsin to vacation with family and attend First Evangelical Free Church.

Tim will be missed by his parents, Fritz and Mae McDowell of Onalaska, Wis.; a brother, James and Sheryl (Erdmann) McDowell of La Crosse; three sisters, Stella (Terry) Schams of Tempe, Ariz., Mary Ann (Gil) Maple of Edina, Minn., and Janice (Dave) Nelson of Leesburg, Fla.; special friend, Ralph Siller of Oceanside; along with many aunts, uncles, nieces, nephews and friends.

A memorial service will be at 11 a.m. Saturday, Oct. 20, at First Evangelical Free Church, 1950 Hwy. 35, Onalaska, Wis. Committal services will be held at 9 a.m. Saturday, Oct. 20, at Mormon Coulee Memorial Park Cemetery, rural La Crosse. Friends and family may call from 6 to 8 p.m. Friday, Oct. 19, at Schumacher-Kish Funeral Home of La Crosse.

In lieu of flowers, Tim requested that memorials be sent to First Evangelical Free Church, Child Evangelism Fellowship or Arrowhead Bible Camp.