La Crosse Central High School

In Memory
Stan O. Nelson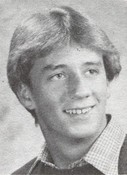 Obituaries for Sunday, February 10, 2008
Damon Nelson (Stan O. [Guy] Nelson)


MINNEAPOLIS — Damon Nelson, 47, of Minneapolis died peacefully on Feb. 7, 2008, in the home he loved following a brief and sudden illness surrounded by loved ones.

Damon was born Dec. 11, 1960, in La Crosse to Stan and Maxine (Dammon) Nelson. He is survived by his mother Maxine; partner and friend, John Moore; loving sisters, Linda (Richard) Koeller, Lana (Eugene) Smithart, Robyn (Michael) Tanke and Rhonda Beeskau; nieces and nephews, Ben Smithart, Jenna (Nate) Smithart, Ryan Tanke (Lindsey Jacobs), Matthew (Katie) Tanke, Jordan and Allie Beeskau; and many wonderful and close friends.

Damon was a 1979 graduate of La Crosse Central High School and later graduated from the University of Minnesota with a degree in English Literature. He had a passion for learning and his interests were diverse. At the time of his death he was a realtor with Caldwell Banker in Minneapolis and also worked as a message therapist. As a young man he performed with the Minnesota Children's and Guthrie Theater's. His love for theater arts and travel took him around the country performing with various groups before landing in Minneapolis — the city he made his home.

He fought passionately for causes he believed in. He was a fundraiser and activist for the DFL Party and a devoted volunteer and advocate for Wittier Alliance - an organization for the and betterment of the neighborhood he loved. Damon was a friend of Bill W. He was a great support to many and was respected, admired and loved by all who knew him. His beautiful smile and warm sense of humor remained with him through his final days. He will be sadly missed but never forgotten.

Memorial services will be held at 6 p.m. Wednesday, Feb. 13, at Washburn McReavy Davies Chapel, 2301 Dupont at Hennepin Ave. S., Minneapolis. Visitation one hour prior to services. Food and fellowship to follow. Memorials may be directed to the DFL Party, Narcotics Anonymous or charity of choice. Washburn-McReavy Davies Chapel (612-377-2203).