La Crosse Central High School

In Memory
James A. Paulikas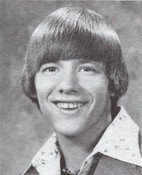 Obituaries for Monday, March 28, 1988
James A. Paulikas, 27, of 2510 Hoeschler Drive, was pronounced dead at St. Francis Medical Center Monday, March 28, 1988. He took his own life.
He was born March 15, 1961, in Viroqua to Tony and Dorothy (Kirkeeng) Paulikas.
A 1979 graduate of La Crosse Central High School, he attended Western Wisconsin Technical College, and was employed by the Robers Dredge Company.
Survivors are his parents of La Crosse, and his sister, Ann Paulikas of Orlando, Florida.
Services will be at 2 p.m. Wednesday in Our Redeemer Lutheran Church. The Rev. Dennis Johnson will officiate. Burial will be in Oak Grove Cemetery.
Friends may call at the Dickinson Funeral Homes' Jackson Street Chapel from 5 to 8 p.m. Tuesday. Friends may also call at the church from 1 to 2 p.m. Wednesday.