La Crosse Central High School

In Memory
Gennean Strupp (Vetrano) VIEW PROFILE
Obituaries for Friday, September 7, 2012
BANGOR — Gennean (Strupp) Vetrano of Bangor passed away on Sept. 4, 2012, at Gundersen Lutheran Hospice after a courageous battle with colon cancer. She was dignified and radiant throughout her whole life, including her last few days with us on earth.
Gennean was born on June 11, 1961, to William and Gloria (Moore) Strupp. She graduated from Central High School in 1979, attended UW-La Crosse and graduated from WWTC with a degree in graphic design.
She married David Vetrano in 1985. They lived in La Crosse before moving to their farm outside of Bangor, where they have made their home for the past 16 years. They were truly blessed with a miracle when their daughter Jessica was born. She is their pride and joy.
After working as a graphic artist for many years at MultiMark, Flemings and Meridian, Gennean fulfilled her lifelong dream of establishing her own business as a graphic designer with the creation of Genuine Vision Studios. With Gennean's creativeness, visualization and high standards, she strived to make everything just the way she had imagined it could be. Her mind was always spinning with thoughts and ideas on how to make the world a better place. One of her recent projects was helping establish and coordinate the annual Firefly Fest, a fundraising benefit for the town of Burns.
She liked to have fun as she spent time socializing with friends and family. She was adventuresome, loved to travel and always had a camera and deck of cards with her. Gennean enjoyed a variety of hobbies and interests which included art, photography, reading, cooking, gardening, fishing, and hunting.
Gennean is survived by her husband, David; daughter, Jessica Vetrano; stepson, Mitch Vetrano; sisters, Tracy (Terry) Scharper and Kelly (Art) Herbst; brothers, Brian (Janice) Strupp, William Strupp Jr. and Pat (Amy) Strupp; grandmother, Odessa (Severson) Moore; aunts, Diane Strupp, LaVonne (Karl) Leinfelder, and Rita Ehlenfeldt; uncles, David (Clydine) Moore and Dennis Moore; mother-in-law, Mae Vetrano; sisters-in-law, Vicki (Mike) Shroeder and Terry (Scott) Kraemer; and brother-in-law, Richard (Karin) Vetrano. Also a sister-like cousin, Susan Lemire; and many other special cousins, nieces and nephews.
She was proceeded in death by her parents; grandparents, Ed and Berdina Strupp and Allan Moore; father-in-law, Innocence Vetrano; uncle, James Strupp; and cousin, Thomas Leinfelder.
There will be a private family service with arrangements by Jandt-Fredrickson Funeral Homes and Crematory, Bangor Chapel.
A celebration of life for Gennean will be held in the evening on Friday, Oct. 19 at the Pettibone Resort Banquet Hall. All family and friends are welcome to come and share their memories of this truly amazing woman. Online condolences may be sent at www.jandtfredrickson.com.
Gennean had a true appreciation for nature and life. In lieu of flowers, memorials will be donated to a local charity.
Her family is grateful to the staff of Gundersen Lutheran Medical Center, Hospice and the Cancer Center for their skillful care and compassion throughout this trying time and appreciates all the support from family, friends and neighbors.
Though her time was short by our standards, with Gennean's firey personality, she made every moment count in her life. In her final moments she expressed her "wish for everyone to just be nice to each other so the world would be a better place."
Gennean's smile and classic beauty will forever live on in our memories.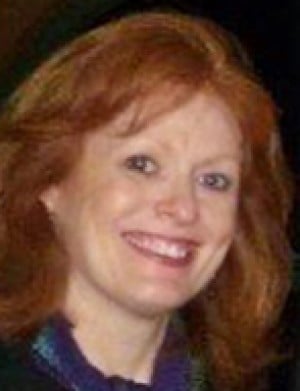 Click here to see Gennean's last Profile entry.