La Crosse Central High School

In Memory
Thomas J. Thesing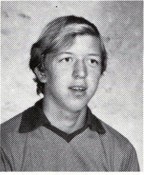 Obituaries for Wednesday, February 11, 2009
Thomas J. Thesing, 47, of La Crosse passed away Monday, Feb. 9, 2009, at his home in the presence of his loving family.

He was born in La Crosse on March 29, 1961, to Lorraine (Noyes) and Rudy Thesing. He attended Holy Trinity Grade School and graduated from Central High School in 1979. Tom married June Savage on June 29, 2002. He worked at Machine Products until they closed. He attended semi driving school. When completed he went to work for Caledonia Haulers, where he worked until the time of his sickness. He loved to go boating on the Mississippi River. He was known among family and friends as the man with the "heart of gold."

He is survived by his wife, June; a daughter, Nikki (Brandon) Johnson; two granddaughters, Audriana and Gabriella Johnson; his parents, Lorraine and Rudy Thesing; brothers, Steve (Kim) and Paul (Kathleen) of Stoddard; Warren (Sandra), Ken (Leslie) of La Crosse and Michael of Madison; his mother-in-law, Virginia Myhre, brother-in-law, Dennis (Deb) Myhre, and sister-in-law, Debbie (Gary) Smorstad, all of Decorah, Iowa. Tom is also survived by many aunts, uncles, nieces, nephews, and his faithful dog, "Max." He was preceded in death by his grandparents.

A Funeral Mass will be at 11 a.m. Friday, Feb. 13, at Holy Trinity Catholic Church in La Crosse. The Rev. Lawrence Berger will officiate with burial to be in Oak Grove Cemetery, La Crosse. Family and friends may call from 4 to 8 p.m. Thursday, with a prayer service at 7 p.m., at Blaschke and Schneider Funeral Home, 1501 West Ave. S., and also at the church on Friday from 10 a.m. until time of services.

In lieu of flowers, memorials are preferred.

Gone But Not Forgotten:

A precious one from us has gone,

A voice we loved is stilled,

A place is vacant in our home

Which never can be filled

God in His wisdom has recalled

The generosity his life has given

And though the body slumbers here,

The soul is safe in heaven.