La Crosse Central High School

In Memory
Lynn M. Stein (Gregory)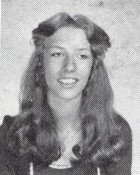 Obituaries for Thursday, September 4, 1997
Lynn M. Gregory, 36, of La Crosse died on Tuesday, September 2, 1997, at the Franciscan Skemp Medical Center.
She was born on June 5, 1961, in Madison, Wis., to Donald and Joan (Boeker) Stein. She married Todd L. Gregory on July 8, 1995, in La Crosse. Lynn had worked at Roy L. Vingers American Legion, Post 52, for 18 years. She was a wonderful, caring and giving person and will be dearly missed by all who knew her.
In addition to her husband, Todd, she is survived by two stepsons, Luke J. of La Crosse and Corey J. of West Salem, Wis.; her mother, Joan of La Crosse; her father, Donald of La Crosse; two sisters, Cheryll (Branden) Adams of Rapid City, S.D., and Vicki (Dean) Wagner of La Crosse; as well as many nieces and nephews.
Funeral services will be held at 1:30 p.m. on Friday, September 5, 1997, at First Presbyterian Church. The Rev. Michael Frandsen will officiate. Burial will be at a later date.
Friends may call at the church on Friday from 12:30 p.m. until the time of service.
The Schumacher-Kish Funeral Home of La Crosse is in charge of arrangements.